Mihály Varga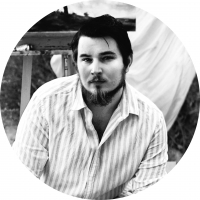 I grew up in agglomeration near to the capital with a few moves. Now I live in Fót, and I create here where I live. Nothing special. (Life just as a screenwriter.) My art changes from year to year and I am searching for myself, but in painting, for me, there is discovery. Unknown terrain that I enjoy now.

After high school I had already decided where to go next. I learned study to draw in a drawing school. Meanwhile I applied to university twice. The second time I succeeded, so I started Hungarian University of Fine Art in 2017 (I don't finish it yet.). I am learned in a graphic class in the university, but painting has become my main field. I only hope for the best and I am very enthusiastic. I'm up to something big.
When I started learning fine art, I was inspired by classical artist such as Rembrandt, Piranesi. Now, I am more interested in experimenting with different materials and mediums such as oil, polystyrene, rather than traditional graphics technique. However, I don't feel I'm done with printmaking at all.
The life is full of the interesting happening. I learned a lot in a university. I was always curious and interested. I feel like I've tried many things and I am still looking for myself. There is one thing that is almost always present and that is the nature in my work. The main elements of my paintings are trees, forests, sky and clouds, birds and staffage figures. Of course, there are exceptions.
My main inspiration is the nature. I think is the most important thing as human beings is to live in the moment. I love the landscapes, forests, trees, clouds, birds everywhere where I see. When I am travelling, I take a lot of photos of the outdoors, and I use them later to inspire myself. Later I paint a picture, nothing is certain it just evolves as I feel, and I leave myself to chance, and I am just a painting on my canvas.
My main motivation is to have a quiet life and to make a living from painting. I would like to work with galleries and be part of the artist community in the future while retaining my freedom.
Are you interested in a commission artwork made by Mihály just for you?

Mihály Varga is present in these categories:
---
Need more help?
| Certificate of authenticity | 14 days money back return policy | Safe checkout guaranteed | |
| --- | --- | --- | --- |