Zuzana Šmehylová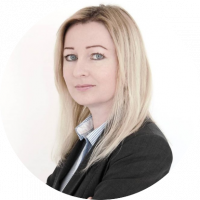 When I visited a gallery for the first time, I was completely entranced by the paintings on the wall. I could not get enough of its beauty, and I could not think of anything that could compare to that feeling. Although I did not want to become an artist right away, I think that moment was what motivated me to pursue an artistic career.

I stopped painting for a long time and I focused on photography because of financial reasons. However, the will to paint has always been inside me. It is, I believe, one of the best ways to express your freedom, a tool to create the most authentic story about ourselves and the world.
"Follow me to another world. Yes, there are other worlds, beautiful and indescribable worlds. They cannot be compared with the feelings people have here on earth. Some may experience something similar, but only in their dreams. "
I always wanted to paint the beautiful images I would see in my dreams. I realized that dream with my first oil painting in 1999. I only recently realized the appreciation other people have for my art and was even awarded twice in an art competition named Umění Spektrum (Art spectrum).
Are you interested in a commission artwork made by Zuzana just for you?

Zuzana Šmehylová is present in these categories: