Agnieszka Tomczuk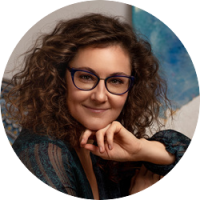 Initially, I painted with a brush, spatula, and various tools which were close to hand. But after a while, my need to explore invited me to express myself more. I started pouring paint onto the canvas, blowing it, splashing it, combining different textures and structures. This allowed me to achieve a fresh and surprising effect.

I would like to welcome the viewers to the world I paint. A world of imagination and magic, created with my passion. I have always been keen on designing my own clothes, as well as embroidering and decorating. I was a makeup artist and a stylist until finally I stood in front of a white canvas and entered the world of painting.
The white canvas has some kind of magic. Whenever I stand in front of it, I feel a surge of excitement. I cannot predict what will appear on it as I choose materials and colors spontaneously. As I trust myself and my imagination, something harmonious and beautiful always appears at the end.
Each work is a reflection of my internal state. Thoughts, visions, and images flow inside me. I believe that capturing the emotions I'm feeling at the moment is the most important thing in my work because it is the best way to express myself.
I want my paintings to convey emotions so that the viewers of my work can feel the moment I captured on the canvas. That they would feel the wave of energy that flooded me at the moment of creation. I want them to stop in front of my work and experience it, rather than just seeing it.
Life is sometimes silent, sad, and nostalgic. However, it is also joyful and loving. The unpredictability of life is what makes my world colorful and vibrant. I hope I can transfer such energy to anyone looking at my work.
Are you interested in a commission artwork made by Agnieszka just for you?

Agnieszka Tomczuk is present in these categories:
Need more help?
| Certificate of Authenticity | 14 days money back return policy | Safe checkout guaranteed | |
| --- | --- | --- | --- |