Agnieszka Tomczuk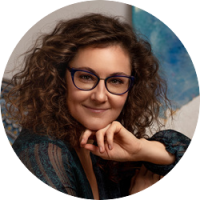 | | I painted with a brush, spatula, and various instruments that were close to hand. But after a while my need to explore invited me to express myself more. I started pouring paint onto the canvas, blowing it, splashing it, combining different textures and structures. So as to achieve a fresh and surprising effect even for me. The inner call of creation consumed me completely. |
| --- | --- |
Welcome, to this world that I have become a part of. A world of creation, imagination, and magic that always has been my passion. I was always keen to design my own clothes as well as embroidering and decorating my creations. I was a makeup artist and stylist until finally I stood in front of a white canvas and entered the world of painting.
White canvas has amazing magic, whenever I stand in front of it I feel a surge of excitement. I don't know what will start to appear on it in a moment. I don't know what materials and colors I will choose. I know one thing, that the more I trust myself and open myself to giving back the reins of my imagination, something harmonious and beautiful will appear.
Each work is a reflection of the internal state. Flowing thoughts, visions, images. This is the moment. Only this moment counts and nothing else. Total focus on what is, what appears. Delight over the lightness of this very moment and how it expresses itself. Every moment is a new experience.
I want my paintings to convey emotions, that their owners would get a piece of that moment that is still going on. That they would feel the wave of energy that flooded me at the moment of creation. That they immerse themselves in magic here and now. That they stop and experience.
Sometimes silence, sadness, nostalgia. Sometimes joy, love, and great gratitude. Sometimes amazement, surprise, and the unknown. And sometimes predictability, grounding. Life.
Welcome to my colorful, vibrating world!
Are you interested in a commission artwork made by Agnieszka just for you?

Agnieszka Tomczuk is present in these categories: