Kara L Falk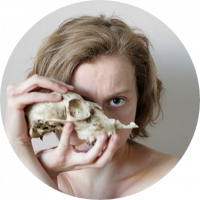 I used to paint and draw since I was a little kid. I needed to create some kind of world inside my head and painting helped me to do so. I imagined fairy-tale-ish countries and drew faces with huge eyes and teeth.
As an adult, it is still something I need to do to stay alive. I simply have to clean my head and art is like a meditation for me. It keeps me alive when gloomy days knock on my door and hesitate to leave.
Kara l falk or klf lives in Slovakia, Bratislava. She is a self-taught emerging artist and student of Academy of Fine Arts and Design. She is fond of expressionism, abstraction, conceptual and/or explicit artwork style. Her idea is to experiment and always search for the new techniques. Apart from visual art and music, klf is a poet, a mental health activist and a philosopher of her mind.
If you would like to get to know Kara more and discuss her work, send us a quick email at viktoria@victoryart.eu and we will schedule a video call for you !
Kara L Falk is present in these categories: