Leila Kolkopová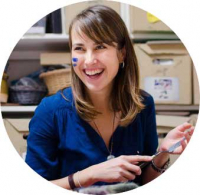 | | As a child, painting, and drawing was an escape from the outside world. My creative soul was guided by local artist Jiří Homola who always encouraged me to find my own style, which took me 20 years. However, when I did find that at 20 I quit painting, convinced it was not good enough to be seen by the world. |
| --- | --- |
When I turned 30, I discovered the genre of spontaneous painting and my heart started to jump as I finally found myself. I finally understood what Homola meant. I lead my brush with my heart and switched off my brain. I think today, you can see "me" in all my paintings. This enabled me to love all of my paintings. I enjoy being free in my expression. Nothing is wrong, I do not judge what I see in front of me.
Because I enjoy passing onto others what I know, I started to lead art classes. My aim is to bring happiness into people's lives. I want to make them remember their childhood, when they knew how to play joyfully.
The recent theme I work with is WOMAN and feminity. I express love for me body and soul, and encouraging everyone who sees my painting to do the same.
Are you interested in a commission artwork made by Leila just for you?

Leila Kolkopová is present in these categories: