Naďa Matušková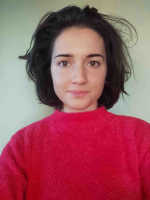 I have always been creating since childhood. I have studied textiles in high school and currently studying at the Academy of Fine Arts and Design in Bratislava. Though I am primarily focused in textile design, I will always be a painter as well.

I love brief, spontaneous and energetic paintings. Working with textile and crafting in general requires a lot of patience and planning. I love both of these approaches I love, and together it give me a balance.
The many different art techniques, especially textile techniques together with bright and rich colors allows me to create my world. The major themes of painting are the hidden beauty in everyday life, moments of happiness, and the inner world of femininity.
In my design projects I recycle different materials, I am always looking for new sustainable ways how to produce. For me, creating artwork is a job, a lifestyle and a way how to discover who I am and the world we live in.
Are you interested in a commission artwork made by Nad'a just for you?

Naďa Matušková is present in these categories: