Jagoda Kalisz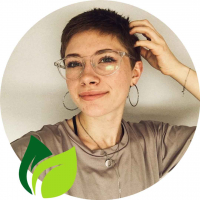 I was always passionate about art ever since I can remember, I always wanted to create. My passion is all about expressing my thoughts and feelings because I'm a very emotional person.

In art, we also need to think of medium and materials. My latest works are all about sustainability. I started working on canvases that are made by me from scratch. Our canvases are completely made from old plastic bags that are thrown away every day, and which is harmful to the environment as well as other people.
Focusing on my belief, I'm working with colours that can express my feelings and what I'm going through at this moment. I personally believe that all tint, hue, colour, and shape can have an effect on what we feel around them. Every painting has many stories behind it. Even if I wanted I couldn't tell it all. Some of them are related to hope and dreams but others are about searching for a different way. For me, I just don't want to stop looking.
I do not just give them a second life, but also show how we can change what we perceive as art. Most of my experience was shaped at the University of Fine Arts in Poznan, Poland, where I currently live and work.
Are you interested in a commission artwork made by Jagoda just for you?

Jagoda Kalisz is present in these categories:
---
Need more help?
| Certificate of authenticity | 14 days money back return policy | Safe checkout guaranteed | |
| --- | --- | --- | --- |