Jan Feteke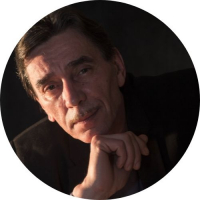 I come from a family with four children. My father was a civil servant and my mother a simple housewife. I grew up in a small village in eastern Slovakia with maybe 1000 inhabitants. As a small child, I took an aluminum spoon and used it to draw on all the furniture. My mother was always annoyed and wondered where I got this desire to draw from.

In my environment there was no one who could lead me to it only then in school did my teacher realize that I have a great artistic talent and gives me a way and support. In this village I lived my childhood directly with nature. That influenced me a lot and forever.
Even now I don't need a template to paint a landscape, it just comes out of my head. The time as an adult I lived in the big cities. My studies at the Academy in Bratislava, Vienna and Munich. The city landscape has shaped me in the same way. I love the big city, the alleys and the people inside. Such motifs for painting are quite natural for me.
Many of them don't have a template, they come from memory and my imagination. I don't want to depict in detail or realistically what we can see with our eyes, but to demand the imagination and inner vision from the viewer.
In my picture, everything is open, everything is just interpretation, it is like an introduction to develop the scenery itself and feel it according to one's own. I see the world without contours, without closed forms and I try to convey exactly the same to the viewer.
Jan Feteke is present in these categories: