Interior design trends for Summer 2019
25.03.2019
As the summer inches closer, so do new trends. According to an article by Kelsey Mulvey, the editor of Apartment Therapy, 2019 anticipates as the year of statement cilings, gilded furnishings and curvy design aesthetic.
As the summer inches closer, so do new trends. While most new trends surface as a past trend with contemporary twists, some appear in the light as extraordinarily unique perceptions. According to an article by Kelsey Mulvey, the editor of Apartment Therapy, 2019 anticipates as the year of statement ceilings, gilded furnishings and curvy design aesthetics. Gone are the smooth and curvy furnishings replaced by the multi-dimensional velvet fabric. This year is all about tiles, wallpaper and art. The biggest interior design trend predicted by the designers is the terrazzo. People have been accenting their apartments with terrazzo tile floors, wallpapers, carpets and even coffee tables. With these ever changing aesthetic trends comes a responsibility to keep up with matching the artworks with home decor. According to research, these five artwork trends will surge this year:
Pastel Colors and Accents
As we embark on the new year, we whisper goodbye to the enlightening shade of gold. The year of 2018 marked a hype for the rose gold accents as they dominated most of Pinterest's furniture and DIY boards. Accenting the room with a metallic rose gold flare indeed established a glamorous outlook. Yet, designers predict that with the start of 2019, the rose gold furore will be dominated by pastel and ice cream colors. According to the trends set by the Stockholm Furniture Fair and the Stockholm Design Week, the pastel trend will materialize as the new neutral. After cycling through obsessions with rich jewel tones and strong hues, interior designers have come around to a softer, brighter and toned down look. Designers predict that pastel hued colors which offer a seventies twist to decor are going to be a huge trend in both interior design and fashion industry this year.

Supplementing furnishings with pastel artworks would mark as a taking a step into fitting in with the latest trend. As 2018 fixated on white and soft hues, this year emerges with an extraordinarily unique milky ice cream color palette offering a more confident representation of plain white. These ice cream colors work well when supplemented with warm and soft or nude hues. In particular, primrose pink and tea rose have already been incorporated in home decor as a result of the #MeToo movement to place emphasis on the power and role of females.



Green is the New Gray
As gray colors highlighted a neutral outlook, 2019 takes a different direction when it comes to artwork with a calming, sophisticated and thought-provoking color such as nightwatch green. With walls as a statement piece, the focus of this year is on green accents as they imbue the room with high-contrast neutrals. Depending on the room, nightwatch green artworks can be introduced into the rooms to provide an edge. This astounding shade of green follows from the Art Deco Movement of the 1920s. Not only is this shade of dark green going to be standing out this year but IMM Cologne 2018 announced celadon green as the new shade of green as inspired by nature. Celadon, along with celery and avocado green offer a lighter and soft hue of greens.



Organic Shapes and Tribal Pattern Play
According to ELLE Magazine's guide to the 2019 interior trends, organic shapes were one of the biggest trends at the Milan Design Week and will take over interiors in the year of 2019. These shapes have also been incorporated into fabrics, tiles, and rugs along with artworks. On the one hand, organic shapes are associated with creatures from the natural world, like plants and animals, whereas, on the other hand geometric shapes relate to organized shapes such as circles and square. Both organic and geometric shapes provide warmth, familiarity, and offset pattern. This allows them to be introduced with ease into even minimal rooms. This trend provides a nexus between comfort and style and can work with almost all room aesthetics. Furthermore, matched or mismatched patterns as well as pattern on pattern artworks are also anticipated as a new trend of 2019.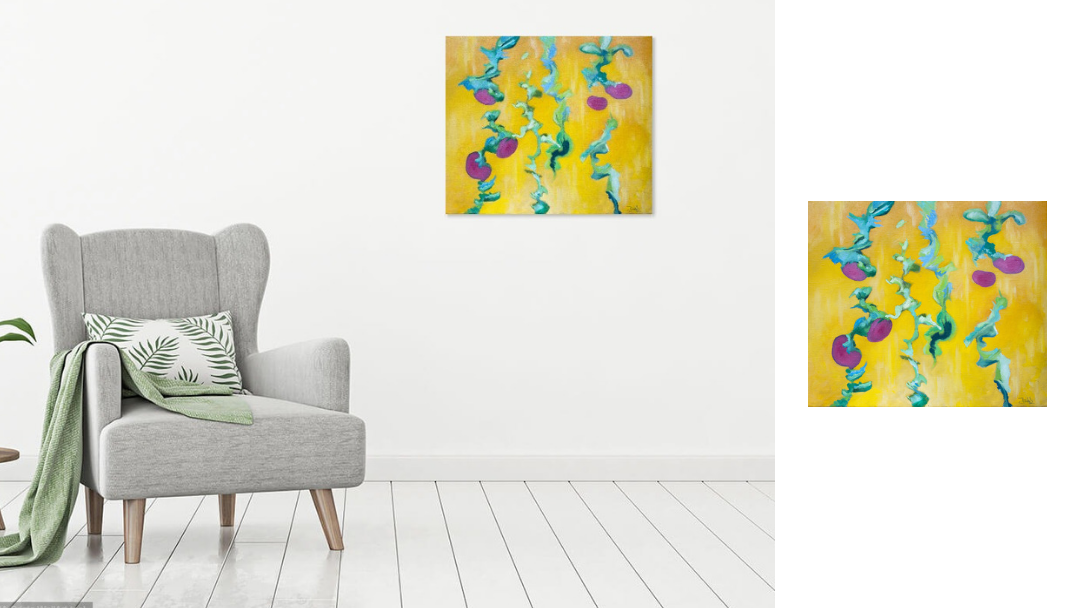 Forget Minimalism. 2019 is the year of Maximalism
As discovered before in the article Exploring Minimalist Art and Scandinavian Interior, minimalism represents simplicity, order, and serenity. It is the most simplistic form of abstract art which makes an attempt to exemplify materiality and design elements of a work of art rather than representing overt symbolism and emotional aspect. The year of 2019 leaves behind the more-is-less concept of minimalism and instead fixates on bright colors, graphic patterns and mixing textures and patterns as the new concept of maximalism and maximalist art surges.
SHOP: COMPOSITION COMPOSITION XXXV
Hygge is Here to Stay
The article Exploring Minimalist Art and Scandinavian Interior also adopted the concept of hygge (pronounced hoo-gah), the Danish term for the feeling of coziness that induces health and well-being, as the hallmark and intention of a Scandinavian-style room. While minimalism might begin to loosen, hygge is not going to disappear this year. The uncluttered and rustic interior of a Scandinavian design works to achieve hygge. Embellish your home with a winter warming piece to help you bring some Hygge home and help create the perfect atmosphere this winter.