5 Different Ways to Design Your Living Room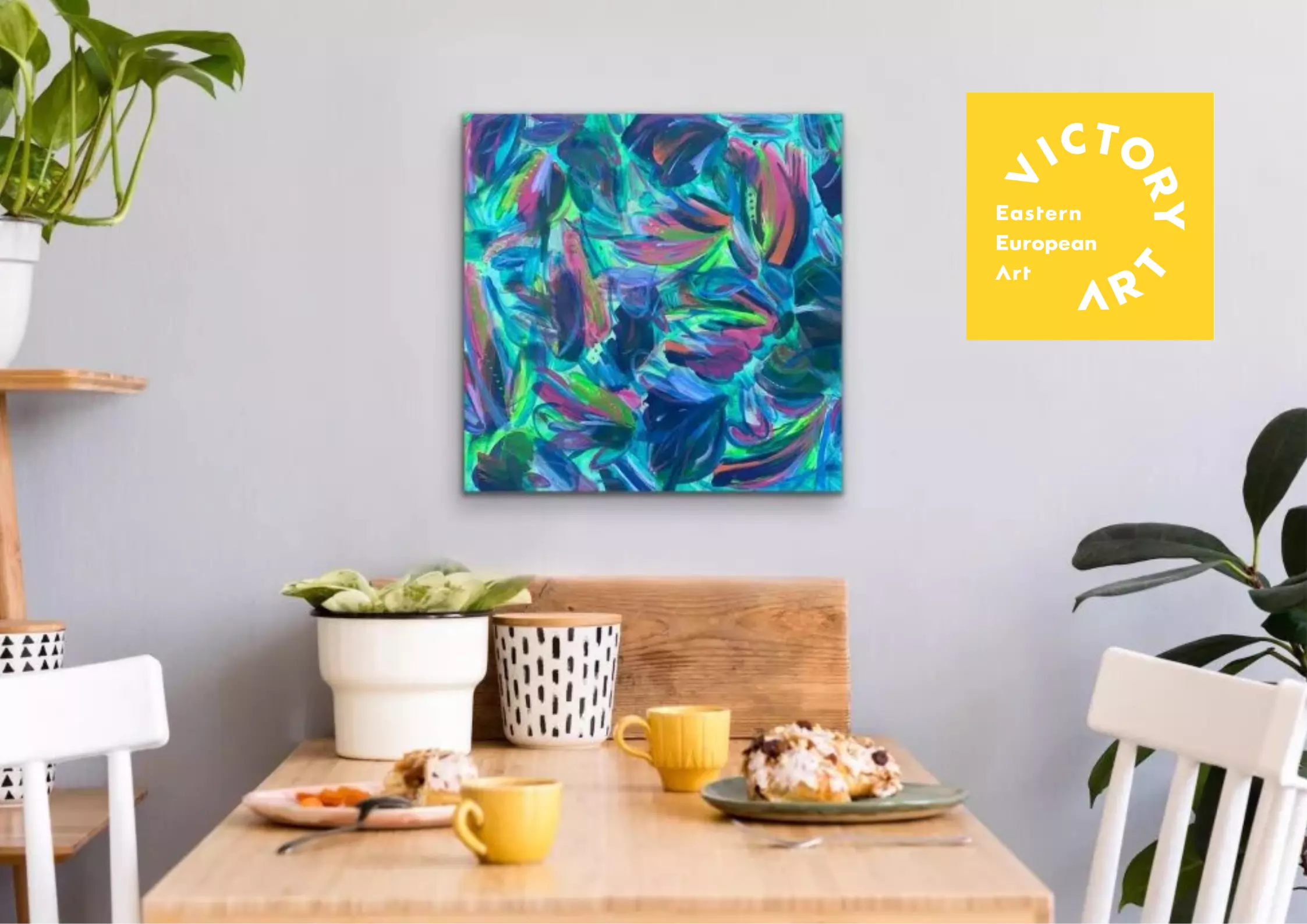 17.02.2022
Want to add a touch of color to your living room? What about a more minimalistic approach? In this blog, you can find various ways you can spice up your living room. Based on their style and color, an artwork can heavily influence the mood of any room.
A well-decorated room with the right wall decorations is something that everyone would like to have. However, it can often be overwhelming to find the right style and colors for your home. For this reason, we want to help you in your search for the right wall decorations!
Calm atmosphere
For many, a home is a place where you want to retreat after a long stressful day and hard work. For this reason, the right atmosphere, which is created by the interior design of your room, is a very important aspect to consider. But how can you accurately create this calming atmosphere? Well, here are a few tips and tricks to help you!
1. Get rid of the clutter in your spaces
If the room is too cluttered, it can lead to physical and unintended chaos. Since this is what we want to prevent, we advise you to get rid of everything you don't need anymore. This will help you revitalize your space and trust me, just getting rid of unnecessary things can already be helpful for you to reduce stress.
2. Get yourself some plants
Many of us enjoy a walk outdoors to get some fresh air after a long day at the office. The calming feeling when walking in nature is something that helps many get rid of stress. So, why not bring that great feeling home with you? My tip; get some plants for your home! It would not only help you achieve a much more calming atmosphere, but also provide more oxygen in your rooms.
3. The power of light
To create a calming atmosphere, you don't necessarily have to spend money (or at least not much). Just having the right lighting in your rooms can help to liven the space up and make them look better. In addition, lighting the rooms with natural sunlight can improve the mood and increase productivity. So, why not try it out?
4. Separate life and work
Since we have a pandemic going on at the moment, many of us have to work from home. But how can you rest properly if you always have your workplace in front of your eyes? To prevent this, we recommend separating the spaces for work and for rest. This will help you achieve a calming atmosphere and help you unwind after work.
5. Artworks as wall décor
Now last but not least, the easiest way to create a calm atmosphere in your home is to simply use an artwork. The right choice of style and the right colour scheme can not only make the room look much more pleasant, but can also help you feel better while looking at the piece. Sounds really nice, right?
Add a touch of color
If you have a monotone interior or spaces with just simple neutral tones and you would like to liven up the atmosphere, then adding a touch of color is the best thing to do! Here are 3 tips you can follow to do so.
1. Consider flowers
Now, this might seem unexpected, but just adding some flowers to your spaces can make the room way more colorful and appealing!
2. Wall paint
If you really want some changes in your home and you think that simply decorating won't help you achieve the results you are hoping for, then you should consider painting the walls with colourful schemes. But be careful, choosing the wrong colour could make your space seem cluttered and could decrease motivation, as well as your mood.
3. Colourful artworks
If you don't have time to water your flowers, or if you feel like it does not fit your interior, don't worry! Instead of using plants and flowers as decoration, you could just simply go with colourful artworks. That would not only create an unforgettable atmosphere in your room, but it would also help you liven up your spaces by using the right pieces. Need inspiration? No problem, here are some pieces that might be interesting for you:
Minimalistic style
"Minimalist interior design is very similar to modern interior design and involves using the bare essentials to create a simple and uncluttered space. (Tarkett)"
1. Clutter stresses you out!
If you prefer a clutter free space then minimalism is the style for you! Look around and see if there is anything that you don't need and just get rid of it, or store it, where no one can see it.
2. Invest in a minimal art
If you still think you need to spice up your spaces, consider investing in minimalistic art pieces! That would not only keep the minimalistic style and liven up the room, but it would also fill the emptiness of a room while still being clutter free.
3. Colour
Choosing a warm but neutral tone for your wall will definitely help you to get a minimalistic atmosphere. Using cream-tone colors helps you get a calm and fresh-looking room without looking boring!
Spice up your living room
If you're a person with a strong and edgier personality you may want Art that is complex and engaging…
1. Keep it Abstract
Abstract Art is, well… abstract. What this means is that this style values shapes, colours, lines and textures over the realistic depiction of an object. Subjective artworks introduce an intellectual and cultured element into a space. These pieces are thought to provoke and inspire conversation. By placing these types of artworks in your living room, you can make a statement to anyone entering.
2. Strong colours
Regarding colour, you want to consider artworks which are heavily pigmented and contain darker hues. Colour is known to easily animate any space and with these gold pigmented artworks. you can brighten up a space whilst keeping it tranquil! The gold also brings an opulent sensation into your living room at a budget.
3. Don't be afraid of the dark!
Contrary to what many believe, black actually adds depth and warmth to a room. This is exactly what you want to do in a room where you host your guests to avoid the feeling of claustrophobia which can easily happen when you have too many people in a smaller space. Instead, you want to maintain the feeling of closeness in a familiar way.
All About Nature
Nature has a specific quality that is able to put you at peace and make you feel connected to the world, so why not bring that into your home? Now, not all of us are green thumbs, so you don't need to worry about watering these paintings. Art that showcases greenery is an easy way to maintain plants in your home in the most creative way possible. These types of artworks introduce a natural and earthy element in your space that will always make you feel at home.
1. A leaf is enough
Having artworks that depict leaves instead of the whole plant may be a better option and here's why. The leaves fill up the canvas in a way that makes the image seem fuller whilst also creating a jungle-like atmosphere.
2. Up close & personal
This close perception also places the viewer in the frame with the leaves and so makes it feel like a type of escape into the wilderness, whilst in your own home. These types of artworks ultimately function like a window that can subconsciously brighten up the living room. Every time light bounces off these works you'll feel as though you can hear birds of paradise singing.
If you want to know, even more, check our more detailed guide on how to buy art for yourself and for your office. We are always here to help you to find the right artwork, you can book an appointment with us, and remember, enjoy yourself while in the process!

CHECK OUT OUR BEST BLOGS