11 Creative Artist Studios That Leave a Huge Impression
11.05.2020
Follow our talented artists as they invite us to get a glimpse into their working environment.
"My studio is the place where most of my creations come to life. It's a small place in the corner of our current apartment where I live with my girlfriend. Space makes me think out of the box. Everything I need to create is here and each thing has its own dedicated place.
FOCUS is the word you'll see all over my studio. It's the word that resonates the most with me. In the age of distraction to be focused is harder than ever. So the constant reminder inspires me to think and create more. I think when you're truly focused, you push the boundaries of your imagination further. Focus on your passion."
Creative Process: "Most of the time the creative process starts with the sketches. To be prepared before starting painting has taught me a valuable lesson: being prepared lets you be more efficient, as well as spares more time."
Bookshelf: On a small bookshelf, I keep the right books in which I look for inspiration. In them are some great minds that I admire and I've made some great connections so far.
Palette: When I paint I usually have a wooden palette beside me. It's been in use for more than 15 years and has never been cleaned. The reason is that I simply love how every new layer of the paint adds up a new story and gets more colorful with time. You can really feel the weight of time on it.
Paints: I try to use more quality paints to get more contrast and hue out of them. Usually when the colors burst the music in the background is playing. The sound nicely connects with the colors. So I'm able to create more genuine contrast and provide feelings that are more personal.
The Painter: I'm always trying to present the viewer's wishes, desires, or simply make them feel or relive a moment from their past.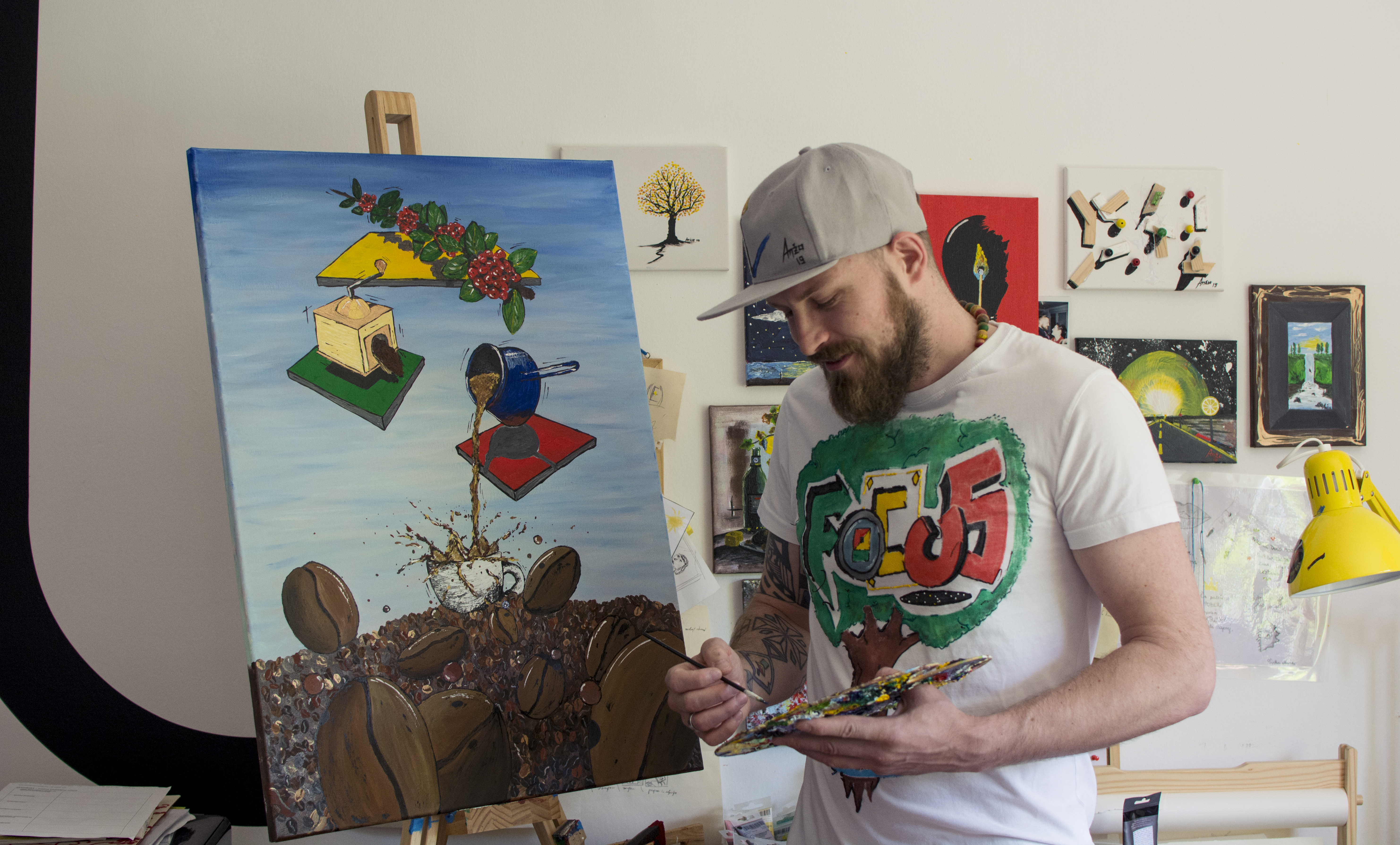 I try to push my boundaries as well as the viewers. Imagination is a highway for the vision! Just imagine...
Jagoda's studio has become an intimate place for her creative magic to thrive. Throughout the years, it has become a space that allowed her to connect with her art on a deeper level.
"Even though my studio is small, because of the 5 windows it is very bright. My creative studio is the most colorful place in our house".
Monica's studio is a primary source of her inspiration. This place embodies a creative force that influences the whole process when working on a piece.
The studio of our artist Konstantin is a place filled with aesthetics that make you feel the ever-present creative vibe once you enter the space.
According to the artist, the idea of the depicted picture 'Wreath' is that:
"Each hand holds a branch, and they all form a wreath, a nest - this is an image of each other's mutual assistance, an image of a hearth, kinship, and that together we can overcome and build something good and eternal".
I spend a lot of time in my beloved studio. It is not a typical art studio full of colors, painted walls, or brushes. My studio reflects the technique by which I create my Pinarts. It is a clean and calm space for the well-being of my mind and perfect concentration.
For Andrea, her studio is a great source of imagination and creation. It is the birthplace of many of her talented artworks and a place she always returns to when looking for inspiration.
Although Monika shares her creative space with other people, she still declared her own corner in a way that lets her creativity blossom.
Eliska's studio is a great embodiment of her own unique drawing style. It is a place that constantly inspires her and motivates her to keep creating.
Luchezar's studio is one of his most beloved places in the room, always radiating the will to start working on something beautiful.
My studio is small but sunny. The windows face south so I have a good environment for creative work, but also for growing various pot plants. This is my second passion, which inspires me a lot and helps me deal with stress. In my collection, I have, among others, green decorative plants, succulents, vegetables, and spices.
The walls are decorated with my works, graphics from my friends, and slogans motivating me to work.
The guardian of my studio is a pink hamster who has a secret. There is a small warm blanket inside, which I cover myself with on cold winter days.
Of course, it is also a warehouse with an arsenal of artistic articles and documentation of my creative achievements.
Wanna find out more about these artists and other artists! Come check out this page to see more artists and their collections. And if you want to know more about purchasing art or other art collections we have, you can always make an appointment with us.

CHECK OUT OUR BEST BLOGS