VICTORY ART IN HUNGARY
---
I have always wanted to deal with visual art that's why I went to a grammar school in my hometown where I visited an art class. After grammar school, I decided that I would like to deal more with painting, but, unfortunately, there was no possibility to study art at the University of my hometown so I moved to another city in Hungary in order to get my painter's degree.

The basic feature of my work is constructive, the arrangement of simple yet expressive forms. Within the field of abstraction, I am primarily interested in the problems of symmetry and asymmetry, and the stricter, thought-out, geometric shapes.
---
I've been working as a graphic designer for 13+ years. As an emerging artist (started painting in 2020) I combine abstract and figurative elements in my work, using acrylics, ink and fluorescent spray paint.

I grew up in a family where art permeated everyday life. My father (besides being the doctor in a village in Hungary) passionately collected and practiced art, supported talented painters, and organised exhibitions for emerging artists. No wonder the love of art has got planted in me from an early age.
---
In 2009 when there was the big liberation brought by the street art as a thing, I have made my first paste ups to Budapest. Some of them got really good reviews, and I started to draw again, just to kill time.

I made quick sketches about the beloved drunken people of the night, with their sentences which felt like falling out of time and space. I started to share them first on Facebook and then on Instagram and first my friends later the friends of friends started to enjoy these silly sketches
---
| | The environment where I grew up was surrounded by countless people who were talented but never capitalized on their abilities. They did not dare or could not face the difficulties, so they preferred to live their lives by giving up their dreams, choosing mediocrity. I've sensed this sorrow in my early years, so I decided I would achieve my greatest potential and live a life I really love. So I strived to get better at what I do at that time. My first passion was sporting, then playing music, finally the visual arts. That caused me the biggest joy I was looking for. |
| --- | --- |
---
I've been on a long spiritual journey, towards the end I came across with painting that meant a sort of home-coming to me. It was a powerful and inevitable run across for which I will be thankful for my entire life. Painting means life itself to me. It is the quintessence of life.

My paintings fall into the style of abstract. My main inspiration comes from feelings that I've gone through, moments that I've lived to the fullest, feelings coming from subconscious territory or even a music that has an impact on me.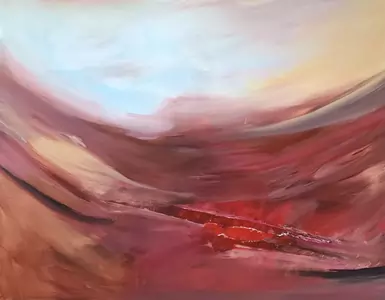 ---
When I started learning fine art, I was inspired by classical artist such as Rembrandt, Piranesi. Now, I am more interested in experimenting with different materials and mediums such as oil, polystyrene, rather than traditional graphics technique. However, I don't feel I'm done with printmaking at all.

My main inspiration is the nature. I think is the most important thing as human beings is to live in the moment. I love the landscapes, forests, trees, clouds, birds everywhere where I see. When I am travelling, I take a lot of photos of the outdoors, and I use them later to inspire myself. Later I paint a picture, nothing is certain it just evolves as I feel, and I leave myself to chance, and I am just a painting on my canvas.
---
I grew up in a small village, where I couldn't find my place. I've always been a little eccentric. That's why I went far from home to a city to an art school where I studied fashion design. I didn't feel the best in that community either, but I enjoyed my study.

It can be said about me that I create quickly. I don't like making a painting for months. I also make my collages out of instinct. Maybe the most representative word for me is an instinct in my works. I feel my works. These are a part of me.
---
| | I have been interested in art since I was a child, I danced, I love good music and well ... I became a fine artist. My primary school was also an art institution, my drawing teacher there dealt with me separately. Once again, I want to thank him for caring about my talent and honoring him with the skill with which he has kept my often swaying attention. After that there was a little omission, I was an elite athlete, but my hobby was still painting and drawing. However, I studied art and visual representation at university again. It was a class where we learned all the imaging techniques and maybe that's when it became my big favorite and I started taking collage making more seriously. |
| --- | --- |
---
"I am a Hungarian artist, I was born and raised in beautiful Transylvania (Romania). I started to do graffiti when I was a teenager. I was always interested in art, so I finished art school, and later I graduated in Graphic Design at PKE University, Oradea, Romania.

After long years of graffiti painting, I started to have an interest in surfaces other than walls. Since then, the op art movement has a big influence on me and my artworks.
Hungarian artists
Hungarian artists
Hungarian artists