---
| | I invite you to enter an art universe, to explore different styles, techniques, and artistic themes. From abstract art to realism, from collages to unique textile prints, all my works present an original vision. My inspiration sources are many and varied: from the surrounding nature (floral and vegetal motifs), architecture elements, decorative motifs of Romanian folklore, to elements from other cultures, abstract geometric compositions to realistic studies from nature. |
| --- | --- |
---
Adrian Dica (b. 1984 Alexandria) is a Romanian painter and he currently lives and works in Bucharest. He studied Fine Arts at the National University of Arts in Bucharest (UNARTE). In 2014 he obtained a BA of Fine Arts degree and in 2016 a MA at the same department, both at Prof. Marcel Bunea. He was awarded UGARTE Excellence Diploma for Painting for his BA artworks.

The general technique principle concerns several cycles of construction-deconstruction, addition-extraction of pictorial matter, and of elements of a plastic discourse. These favors the "coexistence" of the experimental elements and of the accidental factor assumed with a "correct" technical, psychological and historical approach.
---
| | My name is Anca Constantinescu and I am a visual artist from Bucharest, Romania. My mixed media abstract and figurative works explore the human figure and the idea of communication between people. Most of my works are very bright and vibrant, full of saturated colours and contrast. I like to combine a series of mediums, like acrylic, oil, industrial and spray paint with different techniques such as painting, pouring, scraping. |
| --- | --- |
---
I am a Romanian photographer who believes photography allows me to share impulses, impressions, and thoughts in an open format, welcome to all interpretation.

After 10 years of experimenting with numerous genres, it appears I have found my niche. Despite living in Budapest, my interest revolves around social issues and phenomena surrounding present-day Romania.
---
The drawing activity took me on a journey of freedom and relaxation and having the willingness to experiment more in this sense, I started painting courses in a visual arts studio. This experience provided me with the opportunity to enter a whole new world, during which time I also had an exhibition of oil paintings.

My personal painting techniques are about balance, calibrating the amount of paint in the proper paintbrush, with masterful touches on the suitable silk, all this to control the color drop in the desired shape. It's an act of speed most of the time;
---
I am a Romanian artist who loves to experiment with different mediums and styles. I have developed an affinity for detail and developed a pure passion for mythological themes and serious issues concerning human morality.

I started out in the world of art young and since then I have grown as an artist. At six years old, I participated and won a silver medal for painting in Japan and sold a painting the Nadia Comaneci, the Russian Gymnast at an art auction.
---
For me, painting and art, in general, mean a way of life. I believe that once you have tasted it, you cannot return to your old existence. Art, and implicitly painting, represents a spiritual dimension of the world, which offers the viewer a deeper perspective through which he can relate to everything around him. For me, art is as vital as water or air.

I am mainly inspired by nature. I spend quite a lot of time in nature, observing the little things around me. The flight of an insect, the fall of a leaf ... Nature is full of mysteries waiting to be revealed.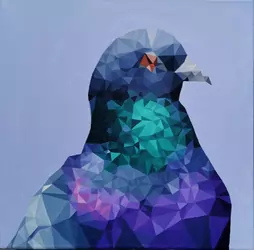 ---
| | Born in Romania, I spent my adolescent year in Italy and graduated in biomedical although I always knew that was not my path to follow. As I moved to Czech Republic, very proud of my new rented apartment I decided to make some painting for my wall. The first of many! It was love at first touch of the canvas, first stroke and It felt like it was part of my essence for long time. |
| --- | --- |
---
The paintings are an endless journey of explaining what and why we are. The language of painting is as intuitive and concrete as life itself. The questions come to answers and the answers come to questions. As the exploration goes on, embracing space, science, and philosophy. My work intends to be a statement of pure emotion through an uncertain existence.

Since I was a child, I always had an urge to create. Making art is my biggest joy and I loved having the freedom to express myself without constraint. Being an artist is about constant learning and giving to others
---
I always felt connected to art in some way and attracted by it. I guess at some point in my life I choose this: to be an artist, even if I had always been one long time before I was even able to raise awareness. I decided to accept it, to accept myself and follow my passion.

As the artist I decided to be, my purpose is to express my feelings, to transform emotions, to communicate thoughts, to reveal my personality, and make manifest the artist within me. This is what my art is about.
---
| | I'm Simon George, a designer from Cluj-Napoca, Romania. My artistic background starts about 20 years ago, in my hometown, Sighetu Marmatiei, when my sister first took me to an after-hours art class within "George Enescu - School of Music". From a young age I've been drawn to creating, taking apart most of my toys and combining different parts to make new objects, so the art class came as a glove for my artistic tendencies. |
| --- | --- |
Romanian artists
Romanian artists
Romanian artists